With the dawn of a brand new year looming on the horizon, companies that are ahead of the curve are already beginning to plan and think about their candidate recruitment prospects for 2019. If you haven't already started preparing your hiring strategy, then there's no time like the present to get started. This is the ideal time of year to hit the pavement hard by researching and anticipating some of the biggest recruitment trends of 2019.
Some recruitment trends may come and go, but there are certain ones that have proven to stand the test of time and yield incredible results for hiring managers. The following are examples of important rules to live by for all hiring managers and recruiters alike: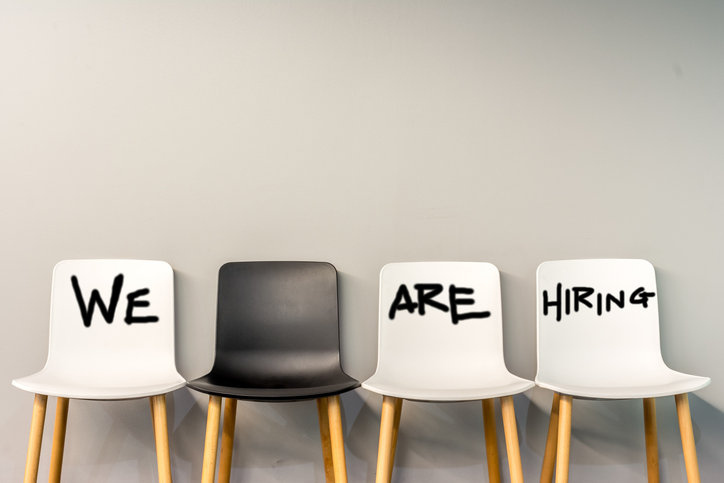 iStock.com/nitsawan
Bring Branding to the Forefront
A key factor when it comes to attracting a high volume of qualified candidates to your company is ensuring that your brand is widely spread out and well known, not just to your perceived target audience, but to consumers worldwide. Exhaustive high-profile online marketing campaigns that include consistent social media advertising can help you bring your brand name to the forefront of your industry's most revered influencers in 2019. Use this medium to your advantage to spread the word that your company is hiring.
Recruitment Marketing
Many recruitment agencies such as Resolve Recruit Inc. have access to a wide variety of internal networks and have built strong working relationships with companies that can provide candidates with otherwise unavailable opportunities. It's important to drive this point home throughout the recruitment and hiring process. Let your candidates know that you're willing to go above and beyond to guarantee that they're set up for success should they choose to accept their new position.
Implement Inbound Recruitment Strategies
Talent acquisition has two main formats: inbound and outbound recruitment. In 2019, the former is likely to become more popular and here's why. Inbound recruitment involves implementing strategic approaches to attracting candidates to your company rather than actively seeking them out yourself. It's a format that's designed to make candidates want to work for your company. As such, this method helps you effectively weed out the unlikeliest candidates from the ones who are best suited to work for your company. The realization that there's a lot of strong competition to contend with lights a fire in your prospective candidates' bellies that will force them to continually work hard to prove their worth to you. After all, in business only the strong survive.
Effective Talent Sourcing
Even if you're not currently looking to hire new candidates for any specific positions, it's always a good idea to keep your options wide open. Creating and organizing a talent pool that's full of potential future candidates and tracking their professional growth can be a great asset for your company's future prospects. Similar to the popular Customer Relationship Management (CRM) software that's revolutionized the customer service industry, there's another CRM that works well for hiring managers and recruitment agencies: Candidate Relationship Management. This is a system of networks that are all interconnected to keep you up to date on the latest hiring trends as well as qualified candidates that are actively or inactively seeking new jobs. You have the option of contacting them directly (outbound recruiting) or waiting until they come to you (inbound recruiting).
Take on a Candidate-Focused Approach
A candidate-focused approach to recruitment is exactly what it sounds like. It means focusing on the candidates that you believe will be the best fit for your company culture and the specific role you're offering. This is a great way to help you narrow down your choices as the hiring process moves forward by singling out the most relevant attributes that each candidate brings to the table and assessing how well they'll mesh with your business. There's no shame in being honest about what you're looking for and what you expect of your prospective employees. Focusing on the candidates with the highest potential for success increases the chances of making an excellent and lasting hire. Cultivating a strong and mutually respectful employee-employer relationship throughout the hiring process and beyond will add a great sense of pride and value to the work your employees produce.
Think of Hiring as a Collaboration
Remember, it takes a village to run your company like a well-oiled machine. You may have started your business venture on your own at some point, but as your company grows over time, you rely on other people and various departments to make sure it's functioning as it should. The hiring process is no different. Every aspect of your business is affected in some way based on the people you hire to work for you. For that reason, it's important to make the hiring process a collaborative effort that involves your HR team working alongside other departments to ensure that the right decisions are being made for the good of the company.
Making Data Driven Decisions
The Internet and various subsequent innovations have made it possible to not only track a potential candidate's work history, but you can also now gauge their overall work ethic and professional progress as well. This information makes it possible for you to make more informed and data-driven decisions about the people you're considering hiring to work for your company. This isn't a task you should take lightly as it directly impacts your company's turnaround rates. A high turnaround rate means that you're making too many bad or impractical hires and this can also negatively impact your company's bottom line. If a candidate makes certain claims about their achievements while working for past employers, make sure you check their references thoroughly to rule out over-embellishments. Numbers don't lie, but you candidates might exaggerate a little during the hiring process to better their chances of getting the job.
Resolve Recruit Inc. is one of Ontario's leading recruitment companies. Based in Mississauga, we've matched countless employers with their ideal candidates and vice versa. Contact us today to learn how our expert recruitment strategies can work wonders for your hiring process in 2019.